 
Hair Smoothing Care - Fiberplasty Endothermic Sealer Mask - Step 3
KERARGANIC's FIBERPLASTY ENDOTHERMIC SEALER - Step 3
Maximizes thermal effect
Absorbs heat without damage
Help fuse nutrients safely within the hair fiber
Protects hair color
Resurfaces, cements and seals hair cuticles
Removes frizz
Promotes softness ans shine
KERARGANIC's FIBERPLASTY ENDOTHERMIC SEALER - Step 3
KERARGANIC's latest innovation to end a keratin or blowout treatment, engineered to optimize fiber heat absorption without damage, fusing nutrients safely and effectively within the hair shaft. Ceramide-rich ingredients resurface, cement, seal the hair cuticles and remove frizz, finishing the service with a masterly touch.
FEATURED INGREDIENTS: 
WHAT'S DIFFERENT ABOUT IT: HEAT ABSORPTION TECHNOLOGY - Rich in ceramide, heat and U.V. protection, cuticle cementing, color toning and protection.
WHAT IT SMELLS LIKE : Cherry blossom with a touch of citrus.
Fiberplasty - Endotherm - Step 3
FINALIZING : Application of Endothermic Sealer (Step 3).
SHAKE BOTTLE WELL before using Spray generously on damp hair. Comb hair to spread it evenly. Proceed to blow-dry and brush. Blow-dry up to 90% or higher to minimize the vaporization of water and oils.
IRONING : Set iron temperature (See chart). Separate hair in 2 or 4 sections, tying each section to facilitate ironing procedure. Starting from the nape upwards, iron small portions of hair from roots to middle, then from roots to tips (See chart for ironing times). After the entire hair has been ironed, the treatment is finished.
HAPPY ENDINGS : Indulge your client in the delicious mist of Kerarganic's exotic Fiberplasty 7-Oil Finishing Spray for additional brilliance and a classy master touch to your creation.
WATER/AQUA, GLYCERIN, CETYL ALCOHOL, ETHYLHEXYL STEARATE, STEARAMIDOPROPYL DIMETHYLAMINE, STEARYL ALCOHOL, CETRIMONIUM CHLORIDE, MYRISTYL ALCOHOL, QUATERNIUM-70, FRAGRANCE/PARFUM, ISOPROPYL MYRISTATE, LACTIC ACID, BEHENTRIMONIUM METHOSULFATE, OCTADECYL DI-T-BUTYL-4-HYDROXYHYDROCINNAMATE, CARTHAMUS TINCTORIUS SEED OIL, DISODIUM EDTA, ETHYLHEXYL METHOXYCINNAMATE, CI 60730, BENZOTRIAZOLYL DODECYL P-CRESOL, CI 16255, COCODIMONIUM HYDROXYPROPOYL HYDROLYZED KERATIN, HYDROLYZED KERATIN, ARACHIDYL ALCOHOL, SODIUM PCA, SODIUM LACTATE, STEARIC ACID, IODOPROPYNYL BUTYLCARBAMATE, ARGININE, ASPARTIC ACID, DEXTRIN, CI 73015, LAURYL ALCOHOL, SODIUM CITRATE, SODIUM PHOSPHATE, SPIRULINA PLATENSIS EXTRACT, PCA, GLYCINE, ALANINE, SERINE, VALINE, THREONINE, PROLINE, ISOLEUCINE, HISTIDINE, PHENYLALANINE, BENZYL SALICYLATE, BUTYLPHENYL METHYLPROPIONAL, D-LIMONENE.
Reviews
MAC&Beauty uses a moderation tool and customer reviews will be moderated. MAC&Beauty uses a moderation tool and customer reviews will be moderated. All the reviews on this page are ordered by date.
Related products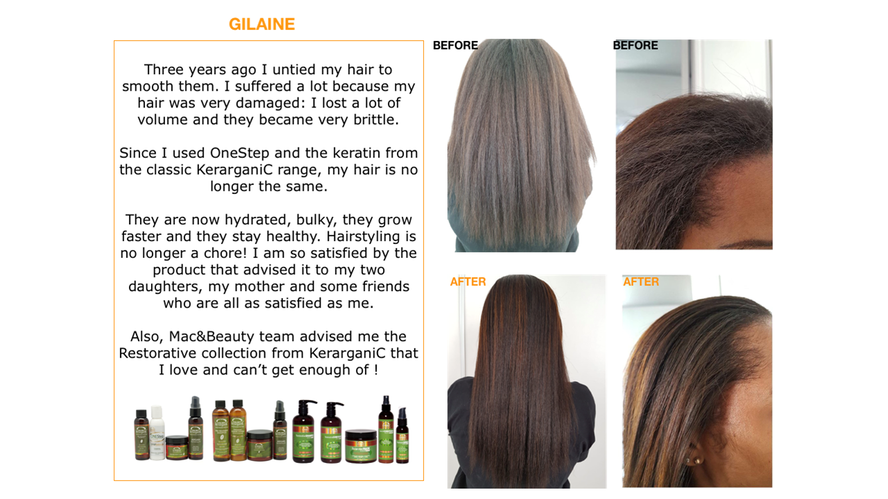 The straightening and botox care are technical products for a professional use.
The results can vary from one person to another. Mac&Beauty cannot be responsible for a bad use of the products sold on the site and does not guarantee any specific results.
A question ? Contact us by email moc.ytuaeb-dna-cam@tcatnoc or call us on +33769246088

We ship worldwide
Colissimo | Withdrawal possible
on Paris (contact us)
Free delivery
In France
from 150 €

Secure payments
Credit card | Bank
transfer | Paypal

Customer service
France +33 (0)7 69 24 60 88
Email: [email protected]