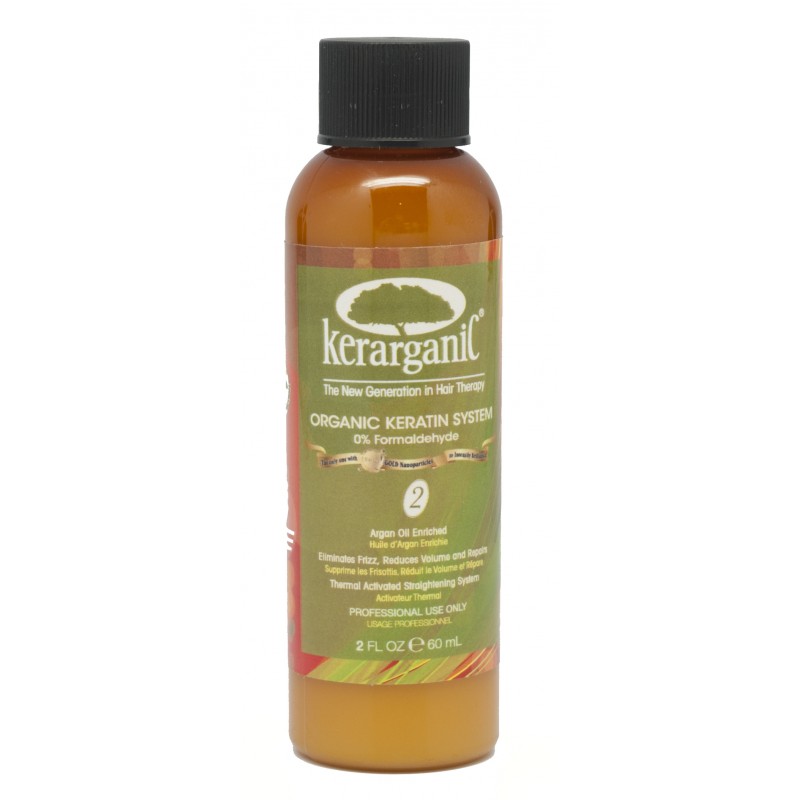  
Gamme Classic Step 1,2,3 Video
Brazilian Straight - Keratine Step 2 Single
The Kerarganic Formaldehyde Free Keratin System (Step 2)
The KERARGANIC FORMALDEHYDE FREE KERATIN SYSTEM (STEP 2)
is the only of its kind in the market with 24kt gold nanoparticles to intensify brilliance. To make this product stand out we have carefully packed an array of natural extracts and oils, including organic certified ingredients, featuring the miracle of Morocco - Argan oil. In addition to essential amino- and fatty- acids and vitamins, it contains natural keratin which is infused back into the hair shaft during the treatment. The absence of formaldehyde, formaldehyde derivatives and other harsh chemicals has afforded pregnant and breast-feeding women and young girls to enjoy our keratin treatment in the more than 20 countries it has been exported to.
Ideal for all type of hair:
reduced kinks, definition and embellishment of buckles(loops), hydrates hair makes it softer and easy to comb. Now combing is not a difficult task!
European, Mediterranean, uncurled and/or discoloured:
Rejuvenates your hair by giving you a smooth hair : eliminate kinks/frizz, returns the elasticity and natural shine of your hair.
Be careful! Straight hair:
Avoid combining kerarganic treatment with traditional straightening creams. The Kerarganic treatment can be used for those who are looking to switch to a natural way to relax their hair.
Find quickly this product in our kits Keratine Small Size - Keratine Medium Size and Keratine Big Size
For straight, thin and / or sensitized hair:

Opt for a temperature less or equal 180 ° C

For wavy, curly hair and / or normal thickness:

Adjust your straightener between 180 ° and 210 ° C

For curly, frizzy and / or very thick hair:

Select a temperature between 210 ° and 235 ° C
Water/Aqua, Glyoxyloyl Carbocysteine (and) Glyoxyloyl Keratin Amino Acids, Cetyl Alcohol, Hydroxyethyl Cellulose, Glycerin, Mineral Oil, Hydrolyzed Keratin, Stearamidopropyl Dimethylamine, Silk Amino Acids, Hydrolyzed Collagen, Hydrolyzed Wheat Protein, Argania Spinosa Kernel (Argan Oil) Oil, Polyquaternium-11, Phenyl Dimethicone, Cyclopentasiloxane (and) Dimethiconol, Cyclomethicone, Fragrance/Parfum, Tocopheryl Acetate, Butyrospermum Parkii Fruit, Cocos Nucifera Oil, Panthenol, Retinyl Palmitate, Glutamine, Phenoxyethanol (and) Ethylhexylglycerin, EDTA, Colloidal Gold, Ethylhexyl Methoxycinnamate, Amodimethicone (and) Glycerin (and) C11 - 15, Pareth-7 (and) Laureth-9 (and) Trideceth-12
Reviews
MAC&Beauty uses a moderation tool and customer reviews will be moderated. MAC&Beauty uses a moderation tool and customer reviews will be moderated. All the reviews on this page are ordered by date.

purchased By
Rim M.
(Champigny-sur-Marne , France) on 29 March 2019 (
Brazilian Straight - Keratine Step 2 Single
) :
Produit magique !
Cela fait des années que j'utilise ces produits Kerarganic (Step 1 / Step 2 / Step 3) et je les utiliserai toute ma vie !
Je les applique uniquement sur la racine et plus sur la longueur car les produits tiennent bien !
Des produits magiques que je recommande à toutes les femmes !
C'est simple j'en achète pour toute ma grande famille et en grande quantité !
Report abuse

purchased By
Abdullah Y.
(Paris, France) on 04 Sept. 2018 (
Brazilian Straight - Keratine Step 2 Single
) :
In love this keratin
I'm in love with this keratin, thanks to this product my curly hair are in control, very soft, shining and healthy
Furthermore MAC&Beauty's team have good service, always traying to make easy the delivery of the product every time I visit Paris.

Report abuse

purchased By
loribel B.
(Lavezzola Conselice, Italie) on 03 Sept. 2018 (
Brazilian Straight - Keratine Step 2 Single
) :
The customer has rated the product but has not posted a review, or the review is pending moderation

We ship worldwide
Colissimo | Withdrawal possible
on Paris (contact us)
Free delivery
In France
from 150 €

Secure payments
Credit card | Bank
transfer | Paypal

Customer service
France +33 (0)7 69 24 60 88
Email: contact@mac-and-beauty.com