 
Hair Smoothing Care - FIBERPLASTY CATIONIC STRAIGHTENING SYSTEM - Step 2
KERARGANIC's FIBERPLASTY CATIONIC STRAIGHTENING SYSTEM
Tames curly ans wavy hair
Reduce volume and increases manageability
Feerds the cortex with nutrients and proteins
Repairs cuticles damages causes by chemicals and environmental factors
Removes frizz
Adds softnessand shine
KERARGANIC's FIBERPLASTY CATIONIC STRAIGHTENING SYSTEM
Is atechnologically advanced hair repair and straightening system integrating cationic (positively charged) ingredients which adhere to the negatively-charged damaged hair, repairing fibers evenly. A blend of specialized ingredients works in synergy to deliver nutrients to the core of the fiber – the cortex – and to restore health to its protective layer – the cuticle. Heat-activated ingredients fill gaps and realign the fiber structure, resurfacing the cuticles, straightening the hair and repairing it from inside out.
FEATURED INGREDIENTS: 
WHAT'S DIFFERENT ABOUT IT: Repairs hair from inside out; smal chains of amino acids penetrate the hair cortex; positively charged ingredients adhere to negatively charged hair, restoring it evenly; heat activated ingredients realign and softness and shine.
WHAT IT SMELLS LIKE : Cherry blossom with a touch of citrus.
Fiberplasty - Straight - Step 2
APPLICATION : Separate hair in 2 or 4 sections, tying each section to facilitate the application of treatment.
SHAKE BOTTLE WELL then pour about 1 to 1 1/2 ounce (30 to 45 ml) of Kerarganic® Fiberplasty treatment of your choice: Cationic Straightening or Cationic Reconstructor (Step 2) in a bowl. Starting from the nape upwards, brush product on hair from roots to tips. Avoid product on scalp. Make sure every strand receives adequate amount of treatment. Spread the treatment evenly with a fine-toothed comb. Repeat the process on the remaining untreated hair.
WAITING TIME : After treatment application is finished, let it sit for 30 to 50 minutes. 30 minutes for hair that is not too damaged or too curly, 40 to 50 minutes for hair that is more damaged and curlier, if client wants a straighter effect. For better absorption of the treatment, sit client under an overhead dryer. After waiting time is over, rinse off up to 90% of the treatment, towel dry the hair, then proceed to Step 3.
The straightening and botox care are technical products for a professional use.
The results can vary from one person to another. Mac&Beauty cannot be responsible for a bad use of the products sold on the site and does not guarantee any specific results.
A question ? Contact us by email [email protected] or call us on +33769246088
Reviews
MAC&Beauty uses a moderation tool and customer reviews will be moderated. MAC&Beauty uses a moderation tool and customer reviews will be moderated. All the reviews on this page are ordered by date.
Related products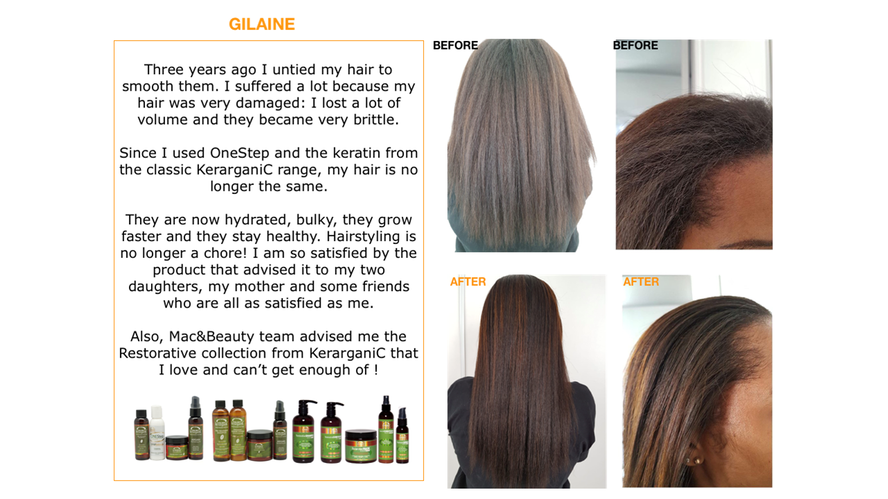 The straightening and botox care are technical products for a professional use.
The results can vary from one person to another. Mac&Beauty cannot be responsible for a bad use of the products sold on the site and does not guarantee any specific results.
A question ? Contact us by email [email protected] or call us on +33769246088

We ship worldwide
Colissimo | Withdrawal possible
on Paris (contact us)
Free delivery
In France
from 150 €

Secure payments
Credit card | Bank
transfer | Paypal

Customer service
France +33 (0)7 69 24 60 88
Email: [email protected]