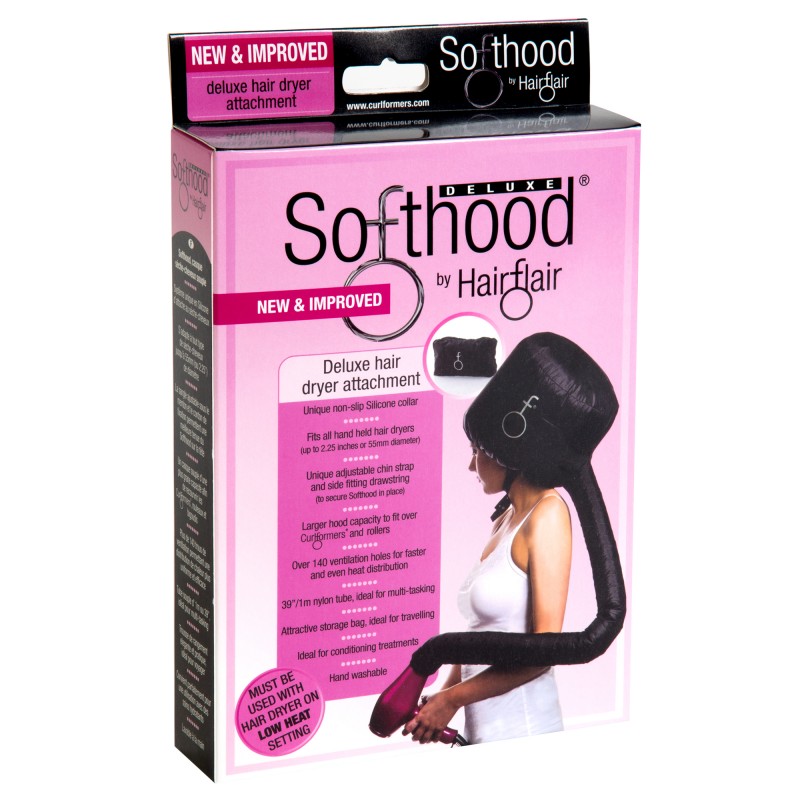  
Curlformers Deluxe Softhood
Fits All Hand Held Dryers Up To 5.5cm Diameter
Attractive Storage Bag
The Deluxe Black Softhood Hair Dryer Attachment Is A Fast And Easy Way To Dry Your Hair When Using Curlformers. Best Of All, It Won't Cause Heat Damage Because You Use It On A Low Heat Setting.
Our Patented, Design Features For Optimum Performance Include Larger Hood Capacity And A Maximum Number Of Ventilation Holes For Faster And Even Heat Distribution. Plus It's Easy To Use With An Adjustable Chin Strap And Drawstring. Finally Its Unique, Patented, Silicone Collar Means It Won't Slip Off The Hair-Dryer!
The Softhood Can Even Be Used To Process A Conditioning Treatment. Just Apply To Damp Hair, Cover With Treatment Cap, And Place The Softhood Over The Top. Switch On The Dryer To A Comfortable Setting And Leave According To Manufacturer's Instructions Before Rinsing Out The Conditioning Treatment And Styling. It's That Simple! You Can Easily Hand Wash Your Softhood After Use.
The Deluxe Black Softhood Is A Great Addition To Every Curlformers Experience.
Our Deluxe Softhood Fits Hair Dryers With A Nozzle Diameter Of Up To 5.5 Cm
Reviews
MAC&Beauty uses a moderation tool and customer reviews will be moderated. All the reviews on this page are ordered by date.

We ship worldwide
Colissimo | Withdrawal possible
on Paris (contact us)
Free delivery
In France
from 150 €

Secure payments
Credit card | Bank
transfer | Paypal

Customer service
France +33 (0)7 69 24 60 88
Email: contact@mac-and-beauty.com